Feel the Thrill at Running of the Bulls in New Orleans
Experience the thrill of a lifetime at this year's Running of the Bulls festival in New Orleans! Running of the Bulls is New Orleans's unique spin on the traditional event that takes place in Pamplona, Spain, and it's safe to say New Orleans' version is a lot less dangerous and a lot more fun! This July 8th-10th, runners and bulls will come from all over to partake in this exciting festival that involves runners who wear all white with the exception of a red piece of cloth, running from "bulls," that are actually the Big Easy Rollergirls with wiffle ball bats. Running of the Bulls takes place in the Central Business District in New Orleans, and features a number of delicious local restaurants, food carts, and drinks for you to consume while you are out in the streets defending yourself from the ruthless "bulls." Come experience this enthralling festival and reserve your spot at the Place D'Armes Hotel, conveniently located in the New Orleans French Quarter!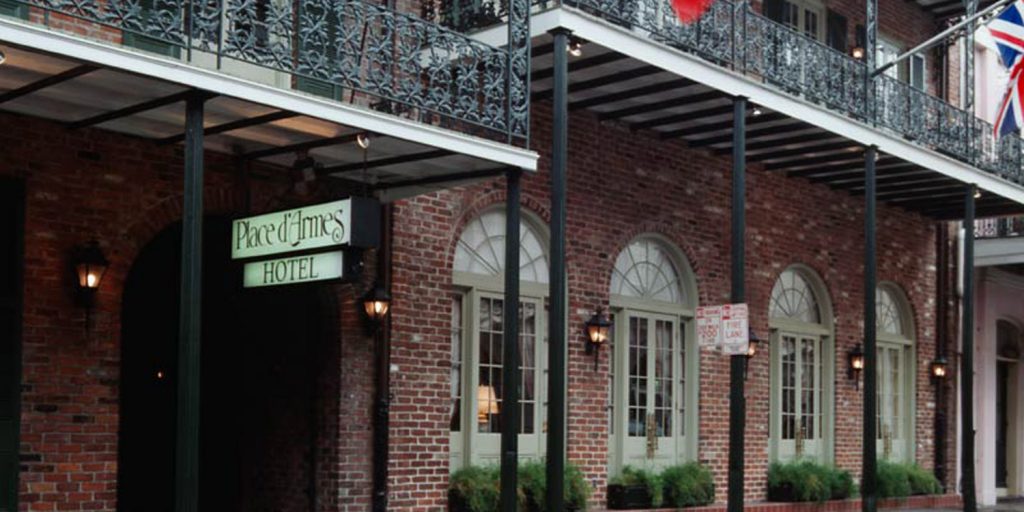 Run from the Bulls and Run Towards Great New Orleans Food and Drink
New Orleanians know how to have a good time, and they sure know how to throw a great party! Come join this party in the streets starting as early as 6:30 A.M., with runners and bulls pregaming the festivities and preparing their costumes to embark on a journey unlike any other. The race officially begins at 8:00 A.M at the Sugar Mill, with a special prayer being said by pontiff Andrew Ward at 7:00 A.M., which is said to honor and respect the Spanish traditions that this unique festival was based off of. You will have the chance to try tons of delicious local food and drink while at Running of the Bulls, including an open bar, and food provided by Commander's Palace, Bayona, Mondo, Appolline, SoBou, and Little Gem Saloon. You will have the chance to sample various food trucks at Running of the Bulls, including trucks from Clesi's Catering, Cocoa and Cream, Crepes a la Carte, Dee's Coffee, Diva Dog, Frenchy's, La Cocinta, and Mr.Choo!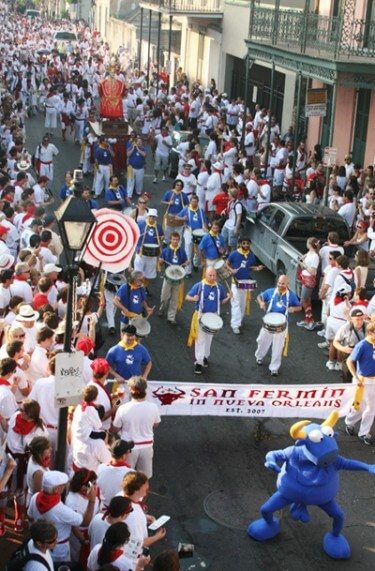 A Memorable Event For All
Running of the Bulls is not just meant for the runners and the bulls to enjoy, either; spectators are more than welcome to this public event! There will be plenty to see as a spectator at this lively event; The bulls will chase after the slowest runners first, whacking them with a wiffle ball bat. This part is similar to the traditional Spanish festival, minus the actual goring from the live bulls. While many of these feisty female bulls will be sporting black and red horns and various accoutrements, you will have the chance to see some wild and ornate costumes from both bulls and runners! One year, a runner claimed she saw a taxidermied raccoon sitting on another runners head throughout the race!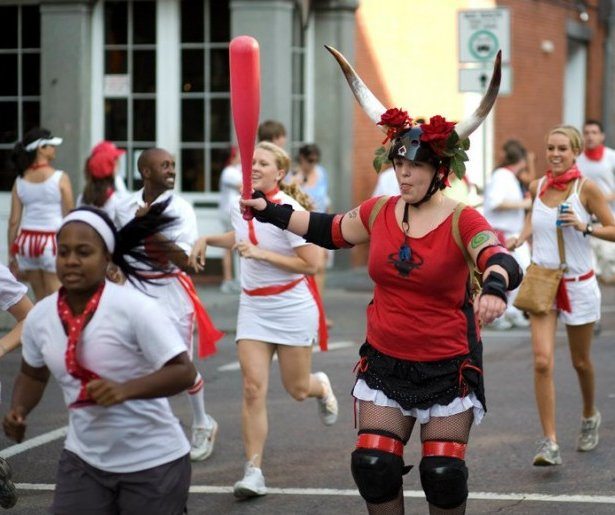 Do not miss out on the chance to run with the bulls this summer in New Orleans! Grab your ticket to this fantastic festival today, and then be sure to book your stay at a beautiful French Quarter hotel nearby-The Place D'Armes Hotel!