Exciting New Orleans Events Happening This August
Experience a unique event unlike any other at this year's Red Dress Run in New Orleans, LA! The Red Dress Run will paint the French Quarter red on August 13th, with a variety of red dresses, outfits, and wild costumes. This event is hosted by the "Hash House Harries," which is a self-proclaimed "drinking club with a running problem." The Red Dress Run is open to men and women over the age of 21 that are interested in participating in a thrilling day of French Quarter fun! You can feel good about participating in the Red Dress Run too, for this event doubles as a fundraiser for over one hundred great local charities. Interested in being a part of this exciting event? Go online to sign up now or show up the day of to get your tickets for cash. If you are in need of a place to stay in the New Orleans French Quarter during the Red Dress Run, stay at the Place d'Armes Hotel! This historic New Orleans hotel is ideal for visitors to the city that want to get an authentic New Orleans experience and stay close to all of the action. Contact the Place d'Armes Hotel today for more information about summer specials going on!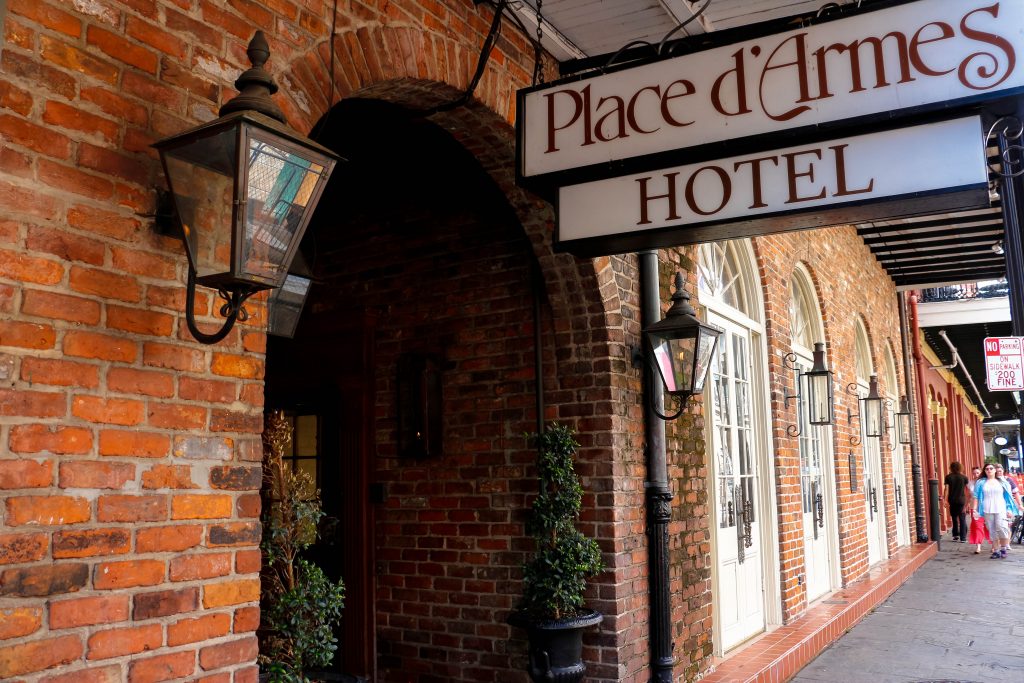 Experiencing the Eccentric Red Dress Run
This year the Red Dress Run is celebrating their 22nd year in New Orleans!. This unique event technically begins in the afternoon at 12:30 p.m., although the actual party begins far before that. Runners will begin congregating in Louis Armstrong Park early in the morning, some as early as 9:00 a.m., to begin preparing for the day's activities. While the Red Dress Run is called a "run," there is a lot more going on than just running! This event is like a party in the streets, with unlimited food, beer, and live music for participants. This year the event will be featuring live music by The Topcats and The Mixed Nuts! Both male and female runners wear red dresses, red costumes, and other eccentric and wild wear. There is no limit to what kind of outfits you may come across on this day! Everywhere you turn you will see extravagant and whimsical outfits that add to the festive mood of the Red Dress Run. While you are out eating, drinking, enjoying the music, and (maybe) running, you can feel good knowing you are helping the community at the same time, for proceeds from the Red Dress Run benefit over 100 local charities.
Red Dress Run photos provided by our friend David Fary.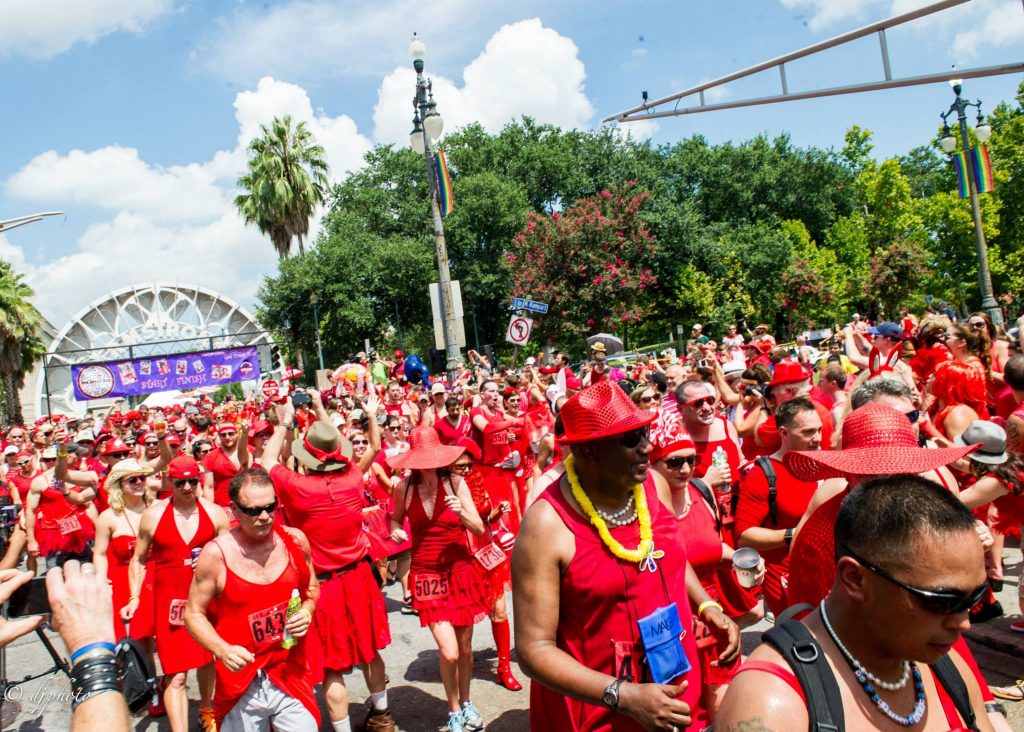 Dirty Linen Night in New Orleans
After you have had your fun at the Red Dress Run, come experience Dirty Linen Night on Royal Street in New Orleans the evening of August 13th! This event blocks off six blocks of Royal Street to allow people to freely browse the participating galleries and shops. Dirty Linen Night lasts up to five hours, and is free and open to the public! This event is perfect for art-lovers and art-appreciators alike. Approximately forty galleries will be participating in this year's event, and in addition to the art, there will be drinks, food, music, and shopping. Dirty Linen Night is the perfect fun ending after a great day at the Red Dress Run!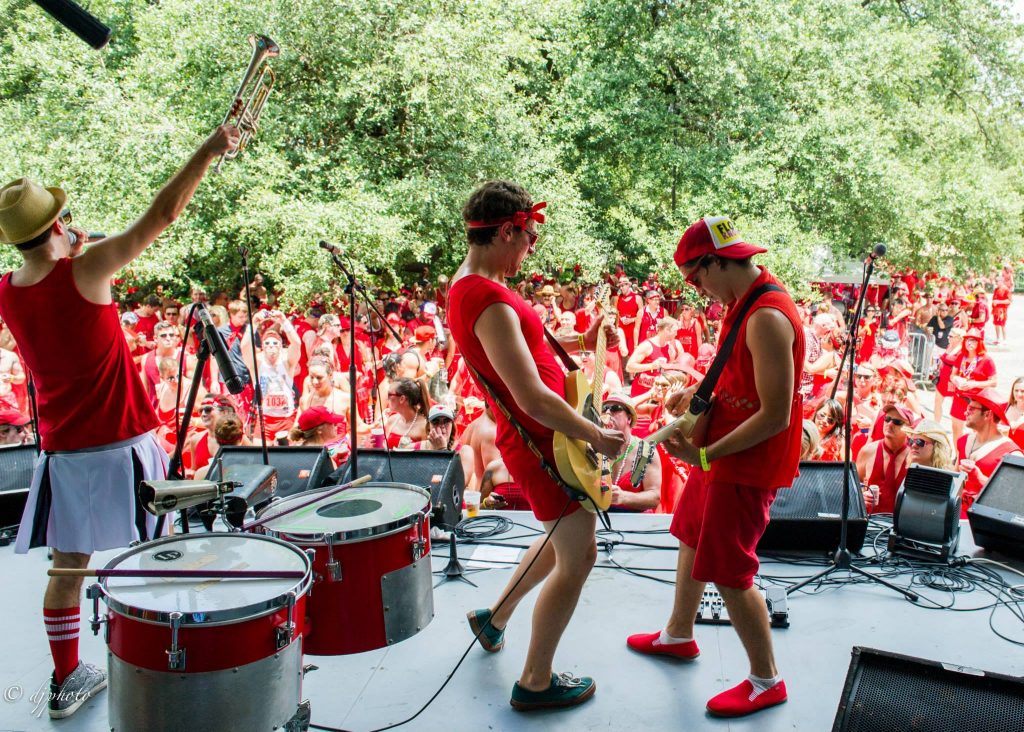 Finding A Historic New Orleans Hotel
If you are coming to New Orleans this August, you do not want to miss out on the exciting Red Dress Run and Dirty Linen Night on August 13th! Are you looking for a place to stay while you are visiting the Big Easy? Look no further than the charming Place d'Armes Hotel in the New Orleans French Quarter. This historic New Orleans hotel is conveniently located in the heart of the French Quarter, walking distance from Royal street and numerous bars, restaurants, and attractions. Contact the Place d'Armes Hotel today to reserve your spot!