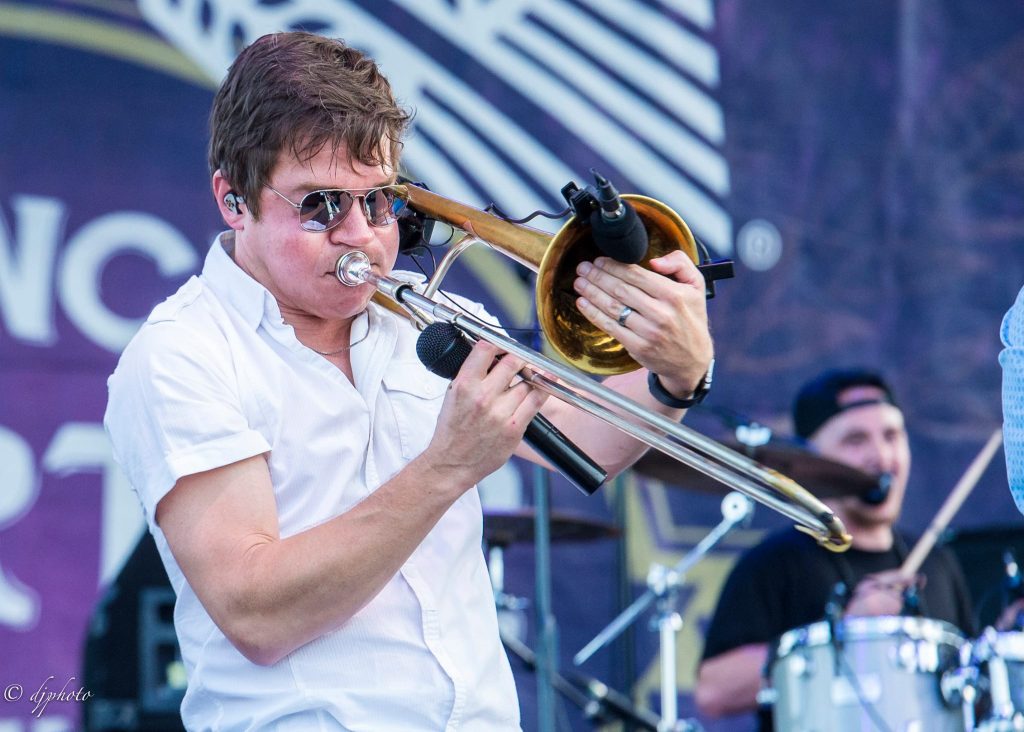 Bonerama by David Fary
You could — and probably should — spend $85 or more for a one-day ticket to Jazz Fest this spring (we're quoting the latest at-the-gate price). But you should also consider coming to New Orleans a few weeks earlier, from April 11 through 14,  for the largest free music festival in the south. During French Quarter Festival, the weather is better (read: less hot); there are plenty of restaurants where you can escape the crowds and relax over a meal — and, did we mention the festival is entirely free?
These are just a few reasons why over 750,000 music fans got their groove on at French Quarter Fest last year, and there are hundreds more reasons for you to come this year. That's how many musicians perform on stages scattered throughout the French Quarter, playing traditional jazz, Zydeco, and every Louisiana music genre in between.
If you're feeling overwhelmed by the prospect of four days of music spread across multiple stages, that's totally understandable. Here's your walking guide to the French Quarter Festival — so you can plan your day for minimum trekking and maximum music enjoyment.
2-minute walk from Hotel Place d'Armes: Jackson Square
Don't be surprised if you can hear the St. Louis Cathedral bells ringing from the hotel lobby — that's because you're literally steps away from Jackson Square, which hosts the outdoor Smokefree NOLA Stage. Jackson Square's palm-tree lined park offers a shady place to dance the day away, and don't forget to swing by the juried art show in Pirates Alley Cafe on Saturday and Sunday. P.S. Pirates Alley was one of William Faulkner's favorite hangouts — he used to live and write there.
3-minute walk: Bourbon Street
Bourbon Street is bustling, it's bawdy, and no trip to New Orleans would be complete without a visit. Fortunately, four stages in the 300-700 blocks provide ample excuses to indulge at this booze-soaked thoroughfare. The Jazz Playhouse hosts a stage and provides a luxe, 1940s-inspired vibe that feels light years away from the mayhem outside.
5-minute walk: Royal Street
On any given day, sections of Royal Street are closed to traffic. Buskers, bands and other performers fill the streets while pedestrians browse antiques shops, galleries and boutiques. But French Quarter Fest pushes Royal Street's everyday ambience to a new level. You'll find four music stages nestled in the 400-700 blocks of Royal Street, including the BMI Songwriter Stage at the Historic New Orleans Collection (533 Royal St.). Pop in here to cool off and soak up the best original tunes up-and-coming Louisiana musicians have to offer. Pro tip: The Rouses stage (700 Royal St.) is hosted by a grocery store, which is a great place to snag affordable bottled water, sunscreen, or other fest essentials that may not have made it into your carry-on.
10-minute walk: Woldenburg Park
This narrow, grassy strip overlooking the Mississippi River is where you'll find the lion's share of the action, with musicians on four main stages pumping out the jams. You'll also find the family-friendly New Orleans Jazz National Historic Park Centennial Stage for Kids here.
The outlier is a stage at Spanish Plaza, which is located at the southernmost end of Woldenberg Park, by The Outlet Collection at Riverwalk. It's about a 15-minute walk to this stage, so while you're out there, you can scoop up some bargains at retailers including Neiman Marcus Last Call and Nordstrom Rack. This recently renovated mall boasts the largest urban outlet collection in the country.
12-minute walk: Old U.S. Mint
Functioning as a branch mint of the United States Mint from 1838 to 1861, this historic building now hosts a jazz museum. During French Quarter Fest, you'll find the Popeyes Brass Band Jam stage there, as well as the WWL Esplanade in the Shade stage on its lawn. A first-aid station, restrooms, ATM, merch shop, bike parking, and food tents round out the offerings at this oh-so-essential stop. It's also situated near the Decatur Street stages and is right on the edge of the French Quarter, where the funky, music-club lined Frenchmen Street begins. After dark, head this way to keep the party going at legendary venues like the Spotted Cat, Blue Nile and d.b.a.