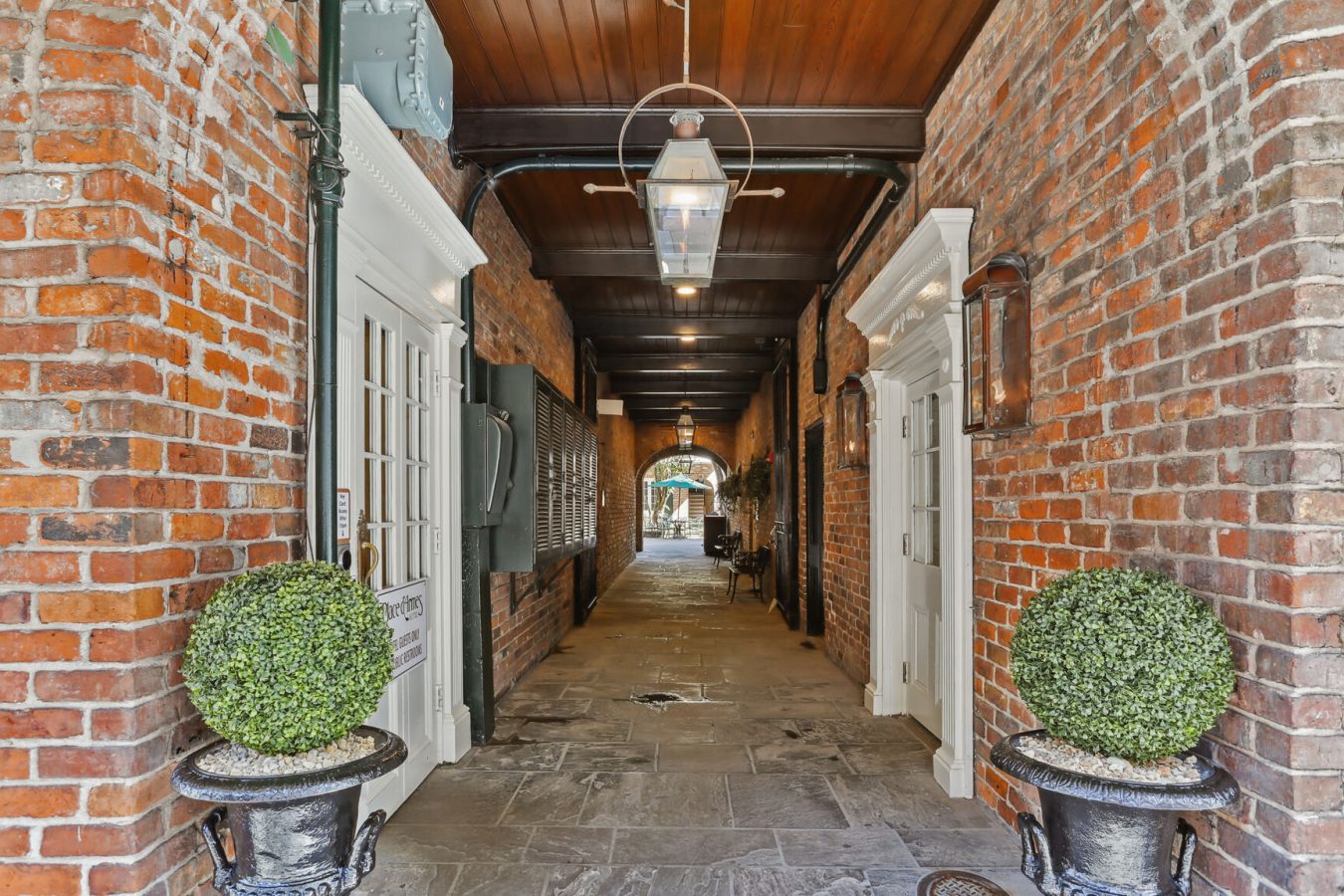 If you're staying at the Place d'Armes, which borders bustling Jackson Square, you're in the heart of the Quarter on St. Ann Street, which boasts a wealth of restaurants, bars and boutiques. St. Ann also has its own hidden history, full of characters, places and events that make it one of New Orleans' most storied streets. Discover the lore and legends while enjoying some of the Quarter's best dining, drinking and shopping.
History, Legends & Lore
Birthplace of Voodoo Priestess Marie Laveau (1020 St. Ann St.)
Shaded by honeysuckle vines, pomegranate and banana trees, Marie Laveau's first house was an old adobe cottage between Rampart and Burgundy streets at an address then known as 152 Rue St. Ann. It served as a sanctuary for children, the poor and sick, and New Orleanians seeking powerful charms from a voodoo priestess who casts as potent a spell today as she did in her own lifetime. Some say Marie's spirit continues to inhabit the current house, which was built on top of the old foundation when the cottage was torn down in 1903.
While it was filming in New Orleans, the hit CBS show had its headquarters on St. Ann between Royal and Bourbon streets, where a gated carriageway leads inside to a squad room, kitchen and courtyard, with an interrogation room in the back. In real life, the carriageway serves as parking spaces for residences on either side. The actual set was in a Jefferson Parish soundstage, but fans of the series can check out its weathered, exterior entrance on St. Ann.
1850 House in the Pontalba Apartments (523 St. Ann)
Take a trip back to antebellum New Orleans in the 1850 House, which is furnished with the exquisite art and decor found in the finest homes of the prosperous local gentry. Situated inside the Pontalba buildings bordering Jackson Square, the elegant apartments were designed and financed by Micaela Almonester Baroness de Pontalba, a remarkable woman whose initials (AP) can still be seen in the cast iron balcony railing. A shrewd businesswoman and heiress, the Baroness survived a gunshot attack by her money-hungry father-in-law.
Built in 1791, the Presbytère was designed to match the neighboring Cabildo alongside St. Louis Cathedral, and was originally used as a residence for Capuchin monks. It later served as a courthouse and became part of the Louisiana State Museum in 1911. The Presbytère's two of its several permanent exhibits celebrate the joyous spirit and resilience of New Orleans. Mardi Gras: It's Carnival Time in Louisiana invites visitors to climb aboard parade floats and view historic throws, while Living with Hurricanes: Katrina and Beyond documents the city's remarkable recovery from one of the worst disasters in U.S. history.
Eat, Drink & Shop
Stanley (547 St. Ann St.)
Breakfast and brunch are served all day at this lively Quarter eatery, which boasts a soda fountain with house-made ice cream and features a full menu of delicious sandwiches, from classic Reuben and corned beef pastrami to the ever-popular Stanley Burger.
Muriel's history stretches back to the founding of New Orleans. It was rebuilt after going up in flames during the Good Day Fire of 1788. An extensive renovation in 2001 restored Muriel's to its mid-1800s glory, and its classic Creole food and specialty cocktails are as classy as its ambiance.
Cafe Du Monde (800 Decatur, corner of St. Ann)
A New Orleans tradition since 1862, Cafe du Monde serves its iconic sugar-dusted beignets and chicory-laced cafe au lait 24 hours a day, and fresh-squeezed orange juice is always on the menu. Pro tip: Skip the crowds that flock there for breakfast and stop by at night, when you rarely have to wait for a seat.
Masks are a Mardi Gras tradition, and Maskarade is brimming with the fanciful creations of some of the world's most gifted maskmakers. Don't see anything that strikes your fancy? Commission your own personal made-to-order mask.
Looking for edible souvenirs? Choose from dozens of hot sauces and spices made by Tabasco and Andy Roo's. You'll also find a slew of other Louisiana mementos, from colorful aprons and apparel to playful ornaments to elegant fleur de lis serving ware.
Visitors make a beeline for this shop's creamy pralines and other Louisiana pecan delicacies like Praline Honey Butter. It's also stocked with regional cookbooks, Cajun spices and mixes and plenty of local souvenirs, from kitchen gadgets to seafood decor to Christmas ornaments.
Grab a cab and head to this fried chicken and soul food mecca in Treme. A destination for activists during the Civil Rights movement, the family-owned restaurant was honored with a James Beard award. It counts President Barack Obama among its many customers.
Planning a trip to New Orleans? Check availability for your travel dates and book your stay online. Also, make sure to take advantage of our low weekday rates and special offers. If you find lower rates on your Place d'Armes room at the time of booking, we will match the rate! And you can get exclusive deals and discounts at our New Orleans hotel by signing up for our email list.