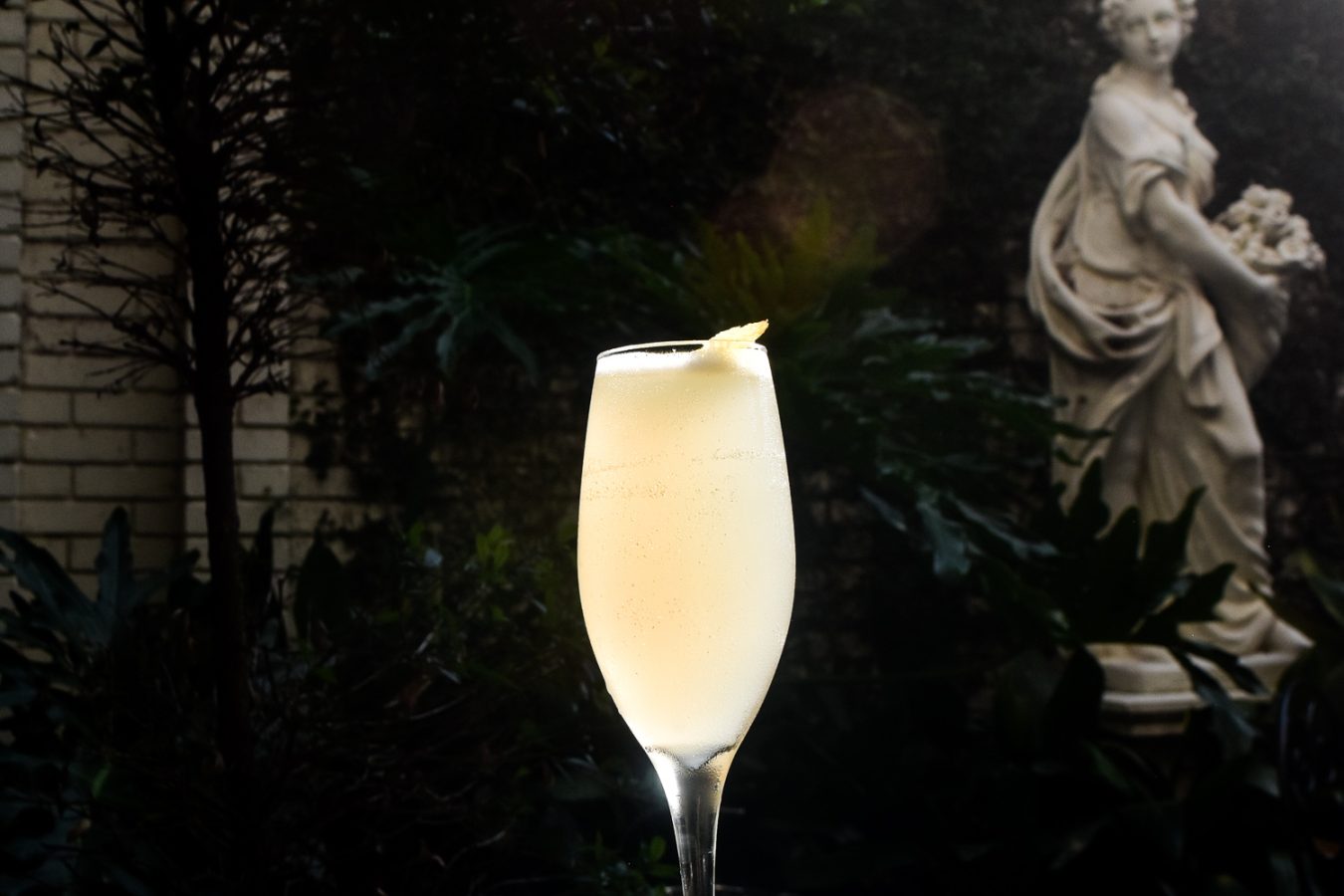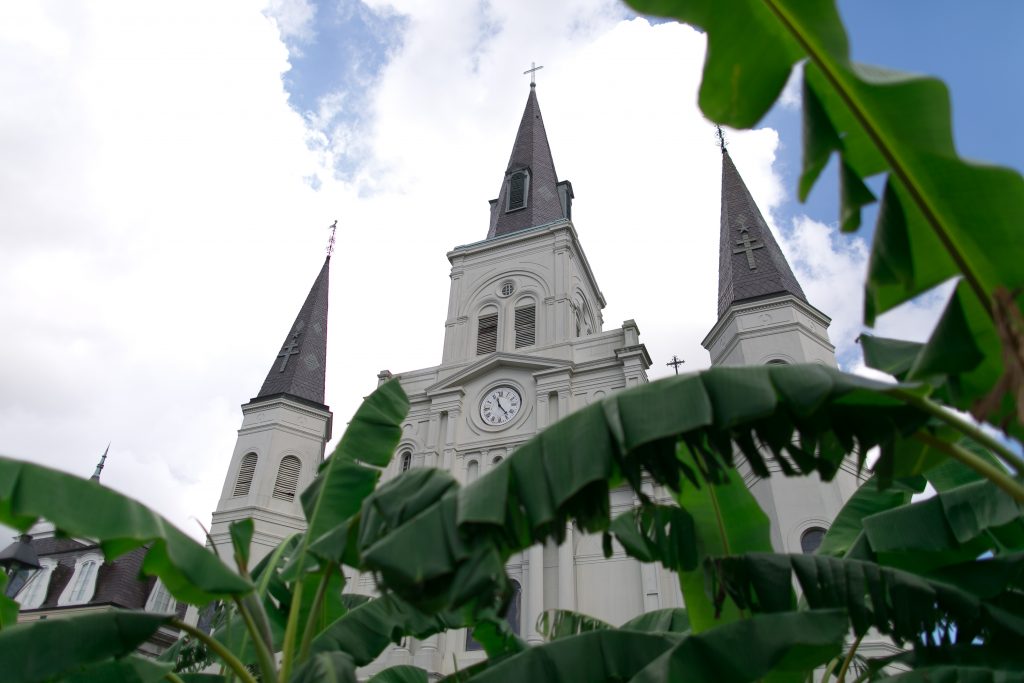 Photo by Trevor Mark
In New Orleans, some bars stay open all night long, and they're not the only 24-hour attraction the city has to offer. Here's your itinerary for a perfect 24 hours in the Vieux Carre. (You can sleep on the plane.)
6 a.m. Watch the sunrise on the Mississippi River
Rise and shine! Start the morning by watching the sunrise over the Mississippi River. Beams sparkle on the water, gulls soar overhead, and the entire city feels fresh and new (mostly because the streets are cleaned at night). Grab a few bucks for your fare and catch the 6:15 a.m. ferry to the Westbank, enjoying the sunrise from the middle of the river.
7:30 a.m. Have breakfast at Croissant d'Or (617 Ursulines Ave.)
Savor the 19th-century ambiance at this pastel jewel box of a patisserie. French pastries, quiches, croissants, and breakfast sandwiches line the glass cases. Grab an almond croissant and a cup of coffee and head to the petite courtyard to peruse the New Orleans Advocate. (Even if you're reading on your tablet, you'll still feel transported to a slower time.)
9 a.m. Take a free walking tour of the French Quarter
Get some physical activity while learning the history of the Vieux Carre from a park ranger at the French Quarter Visitor Center. The center opens at 9:30 a.m. Tuesday through Saturday (closed on Sunday and Monday). Don't forget to bring water and wear comfortable shoes.
10:30 a.m. Window-shop on Royal Street
Antiques, art galleries, buskers, boutiques — you'll find all these and more on Royal Street. Standouts on the pedestrian-friendly thoroughfare include M.S. Rau (630 Royal St.), a treasure trove of antiques and oddities, and Trashy Diva (537 Royal St.), a dress boutique with locally designed, vintage-inspired frocks.
12 p.m. Time for lunch at Galatoire's (209 Bourbon St.)
Lunch at Galatoire's is a time-honored tradition among New Orleanians. On Friday afternoons, it seems that half the city's workforce gathers in this tiled dining room to eat, drink and be merry over shrimp remoulade and filet mignon. It's the rowdiest fine dining you'll ever experience — but don't forget to follow the dress code (business casual for lunch, jackets for men during dinner).
1:30 p.m. Stroll through Jackson Square
The French architects who designed New Orleans' layout originally conceived of Jackson Square as the hub of the city's activities — and so it remains. Ringed with shops, restaurants and museums, it features a shady park with a large fountain, where you can sit and relax in the shade. Beyond the park, find palm readers, fortune tellers, portrait painters, mimes, buskers, and every flavor of performance artist conceivable.
The St. Louis Cathedral is the oldest operating cathedral in the U.S. — and many believe it is the most beautiful. The cathedral is free and open to the public. Walk the aisle, admire the stained glass stations of the cross, light a candle, and have a moment of prayer or quiet reflection in the pews.
3:30 p.m. Tour the Presbytere (751 Chartres St.)
Visiting after the Carnival season has ended? No worries. You can get your fix of Mardi Gras at the Louisiana State Museum's Mardi Gras exhibit. Float sketches, ornately beaded costumes and videos capture the excitement of a parade.
6 p.m. Have dinner at Irene's (539 St. Philip St.)
Creole fare meets Italian cuisine at this intimate eatery. Its softshell crabs (when in season) are some of the best you'll ever taste.
8 p.m. Catch live jazz at The Bombay Club (830 Conti St.)
Settle into a deep leather chair at this handsome restaurant/bar and enjoy the sounds of trad jazz, cocktail in hand. You'll feel like you're in a 1940s-era nightclub (and the martini glasses actually are vintage). Check the nightly offerings on the club's live music schedule.
10 p.m. Hit Bourbon Street
It's cheesy, it's tacky, it's neon-lit, and it's an absolute must if you're visiting New Orleans. Order a hurricane to go from Pat O'Briens (718 St. Peter St.) and make your way down the corridor of decadence. Stop in any club that catches your eye, hit the dance floor, make a friend, or make a fool of yourself — that's what Bourbon Street is here for.
Wind up your Bourbon Street expedition with a visit to this ancient, weathered, candlelit bar, where privateer Jean Lafitte once held court, and where it's easy to feel like a modern-day pirate. After all, it's the longest-operating bar in the U.S.
2 a.m. Beignets hit the spot at Cafe du Monde (800 Decatur St.)
At this point, you could probably use some food. Deep-fried and topped with mounds of fluffy confectioner's sugar, beignets hit the spot. Paired with a steaming hot cafe au lait, they just might give you a second wind. Which is good, because you're going to need it.
3 a.m. Hit the dance floor at Santos (1135 Decatur St.)
Lots of different nightclubs have called this address home over the years. Its current incarnation is Santos Bar, a spinoff from the hip Garden District hotspot called The Saint. Every night has a different theme and a different late-night dance party.
5 a.m. Unwind on your private balcony
Place d'Armes features a number of rooms with balconies overlooking the French Quarter. Sit back, relax and congratulate yourself on a truly epic day (and night) before hitting the pillow. Then enjoy your rest — you've earned it.
Planning a trip to New Orleans? Check availability for your travel dates and book your stay online. Also, make sure to take advantage of our low weekday rates and special offers. If you find lower rates on your Place d'Armes room at the time of booking, we will match the rate! And you can get exclusive deals and discounts at our New Orleans hotel by signing up for our email list.