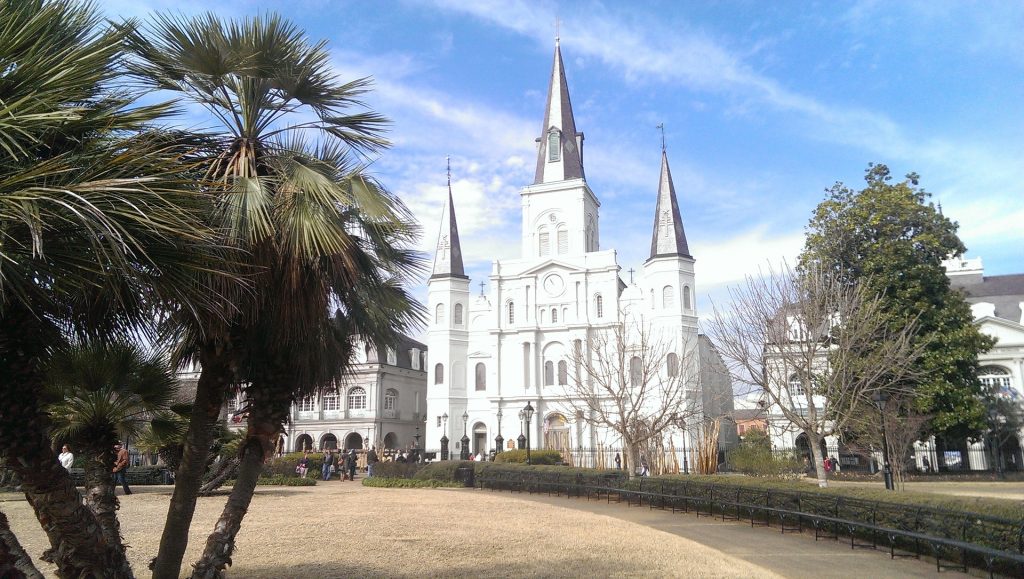 Whether it's a weekday or the weekend, locals and tourists with all sorts of interests seem to have no trouble finding something stimulating to sink their sightseeing teeth into. Here's a list of some of our favorite activities in and around the French Quarter.
Creole Queen (1 Poydras Street)
Speaking of steamboats, do you dream of a way to journey down the Mighty Mississippi River? Well, now here's your chance! Dating back to 1983, the Paddlewheeler Creole Queen is a New Orleans staple. It's not unusual to see her rolling down the river as the water rotates beneath her powerful paddlewheel. Paying tribute to 19th century technology and Victorian-era style, this waterfront behemoth is another popular New Orleans activity.
It truly is a "floating palace" with its many private rooms, top-notch stereo system, and upgraded bathrooms. You can even reserve the deck for your very own private party—and we have to admit, there's nothing like a swinging engagement party on-board! We aren't talking about a small party either because this waterfront beauty has the "largest indoor capacity [of any] excursion vessel in New Orleans." So make the most of this opportunity and see the French Quarter, the Port of New Orleans, and the Jean Lafitte National Historic Park all in a single morning or afternoon!
Audubon Aquarium of the Americas (1 Canal Street)
The Audubon Aquarium of the Americas is against the perfect backdrop of the Mississippi River. Before you step inside into this underwater world, take in some fresh air as you watch the sunlight hit the Mississippi. The park-like setting really is the perfect place for a pre-aquarium picnic—maybe you'll even see a steamboat or two.
Once you're inside, the aquarium boasts a very interactive experience. You will enter the aquarium through a tunnel of underwater life as stingrays and sea turtles majestically soar above you. After that, anything is possible. Check out the bright green and rather haunting eels right after the front entrance, watch as a member of the staff feeds the fun-loving, playful penguins, or allow the rhythmic movements of the many species of jellyfish to hypnotize you. Stop by the gift shop afterward with its cute aquatic-themed trinkets, or pay a little extra at the ticket booth for a 3-D, nature-oriented film shown on a gigantic IMAX screen next door! All of the wonderment of life beneath the sea awaits you here!
Jackson Square (700 Decatur Street)
Jackson Square, once known in the 18th century as "Place d'Armes," is a favorite among locals and tourists. The attraction was later named after Andrew Jackson, a war hero during the Battle of New Orleans. Many see Jackson Square as the heart of the French Quarter, and we have to agree that it's true. In a short distance, one can explore the French Market, Café du Monde, and the number of bars and shops that line Decatur Street.
Jackson Square is probably most known for its open-air artist colony, which some families have been members of for many generations. Find the perfect painting to bring back home, have your caricature done, or get your palm read and discover what the future has in store for you. With many nearby restaurants, museums, and historic buildings, Jackson Square is definitely worth the trip.
Harrah's Casino New Orleans (228 Poydras Street)
Looking to kill a little time before that boring business meeting? Or perhaps you've had a fun day in the city already and are looking for a little late night action? Well Harrah's Casino New Orleans can provide you with the entertainment you desire. With 113 table games, 20 poker tables, and 1,873 shot machines (but, who is really counting?), Harrah's Casino New Orleans is a go-to spot for thrill seekers eager to try their luck.
If you prefer not to gamble, there are many other opportunities for a little R&R. Stop by one of the many restaurants located inside of the casino such as Besh Steak, local chef, John Besh's play on a traditional steakhouse, Acme Oyster House, a favorite local seafood chain, or The Buffet at Harrah's. If you've already had a great meal at one of the many restaurants downtown, perhaps it's time for some adult refreshments at VooDoo Cocktail Lounge or Masquerade. Whatever you decide to do, you're in for the time of your life.
Live Music
Jazz, funk, zydeco, blues, classical, opera…needless to say, you can find every genre in New Orleans, at any time, and on any day of the week. When it comes to live music in the city, the question is never "Where?" but rather "When?"
From Frenchman Street to Bourbon Street, authentic New Orleans music engulfs every corner of the city in a constant stream of harmonious melodies. Speaking of Frenchman Street, check out the Blue Nile, which you might have already seen on the hit HBO show, Treme, or journey down to St. Claude Avenue, located in the Marigny neighborhood, for some amateur karaoke performances at Kajun's, which will leave you questioning why you've never tried karaoke in the first place…because you couldn't possibly be that bad.
Don't forget the many music festivals that populate the city's event calendar year round. Our favorite is French Quarter Fest, which features some of the best Cajun and Creole food and hottest bands in New Orleans.