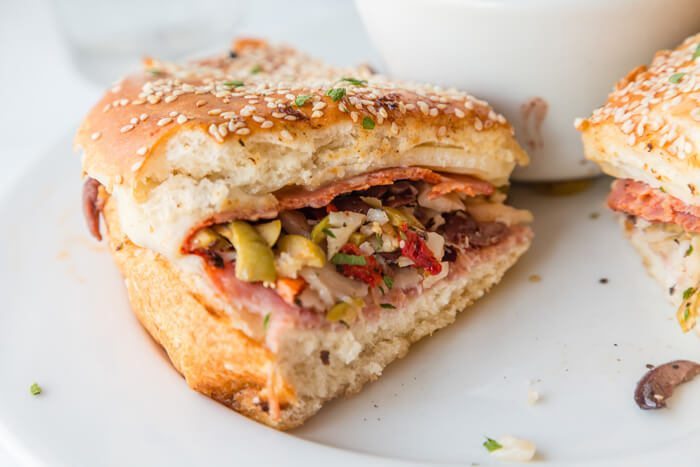 New Orleanians love to eat, and so do the visitors who flock here. While dinner is the star of the culinary show, a host of classic New Orleans foods pop up at lunchtime. Gourmands can enjoy a long, leisurely lunch at some of the Quarter's fanciest restaurants for a fraction of what they'd pay for dinner, or pick up a tasty lunch to go at a grocery store or po-boy shop. Try something different every day to experience the full spectrum of the city's moveable feast.
 Muffulettas at Central Grocery (923 Decatur St.)
Sicilian immigrants have been a linchpin of New Orleans food culture since they first arrived in the city. Founded in 1906 by Salvatore Lupo, Central Grocery gave birth to the most iconic Sicilian food of all: the muffuletta. Made with in-house sliced meats and cheeses, heaped with Central Grocery's famous olive salad and sandwiched inside homemade sesame-seeded bread, muffulettas are guaranteed to satisfy your lunchtime cravings.
 25-Cent Martini Lunch at Antoine's (513 Royal St.)
Founded in 1840, New Orleans' oldest restaurant offers one of the city's best lunch bargains in an elegant historic environment. Seasonal $20 lunch specials include a choice of famous Antoine's appetizers like artichoke soup and equally renowned entrees like crawfish étouffée, plus strawberry angel food cake or pecan bread pudding for dessert. Keep the conversation lively with several rounds of Antoine's 25-cent martinis, which practically demand a long, leisurely lunch.
 Charbroiled Oysters at Acme Oyster House (724 Iberville St)
Visitors love to belly up to the oyster bar at the Acme, where entertaining staff members make time fly while you feast on fresh raw oysters. But save enough room for must-have charbroiled oysters! Jazz it all up with a couple oyster shooters with vodka and hot sauce and you're all set for the day.
Burgers at Port of Call (838 Esplanade Avenue)
There's a reason why you always see a line of hungry people waiting outside Port of Call. Its signature burgers have been hailed as New Orleans' best by everyone from Zagat's to Citysearch, while its signature cocktails are infamously strong. The menu description of Neptune's Monsoon says it all: "An old recipe used frequently as a last request by pirates condemned to walk the plank."
Po-Boys at Johnny's Po-boys (511 St. Louis St.)
Looking for a real deal old school New Orleans po-boy joint? Local favorite Johnny's delivers and, like Port of Call, is worth the wait. Heaped high on Leidenheimer's, the only true po-boy French bread, are five classic choices. Seafood lovers gravitate to fried shrimp and fried oysters, but the roast beef po-boy is also one of the city's best, and laden with gravy debris.
Gumbo at Restaurant R'evolution (777 Bienville St.)
Gumbo is on the menu all over town, but one of the most memorable versions is found at R'evolution, an elegant nouveau cuisine restaurant that puts a unique spin on classic Cajun and Creole cooking. The seafood gumbo is a solid choice, but cognoscenti head straight for "Death by Gumbo," which is worth every cent of its hefty $18 price. Steeped in a dark roux, its centerpiece whole semi-boneless quail is stuffed with smoked Andouille sausage, file rice and poached oysters. Overkill? Sure. But death never tasted this delicious.