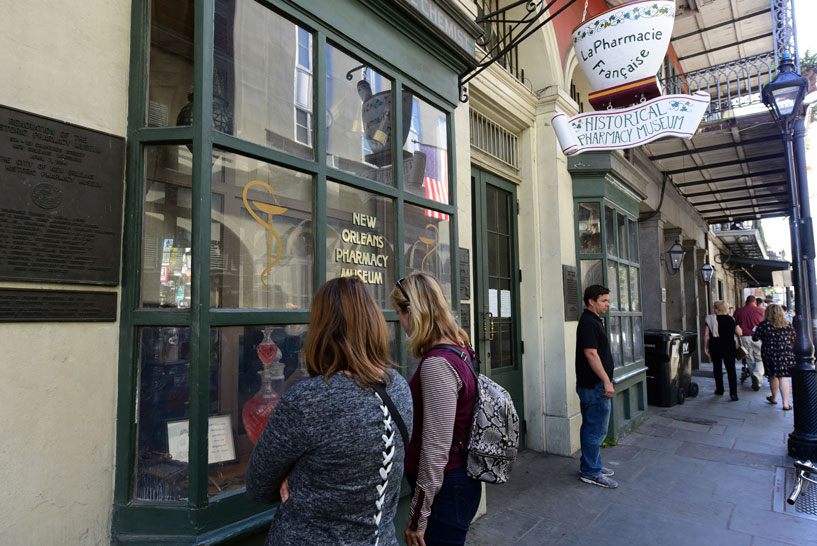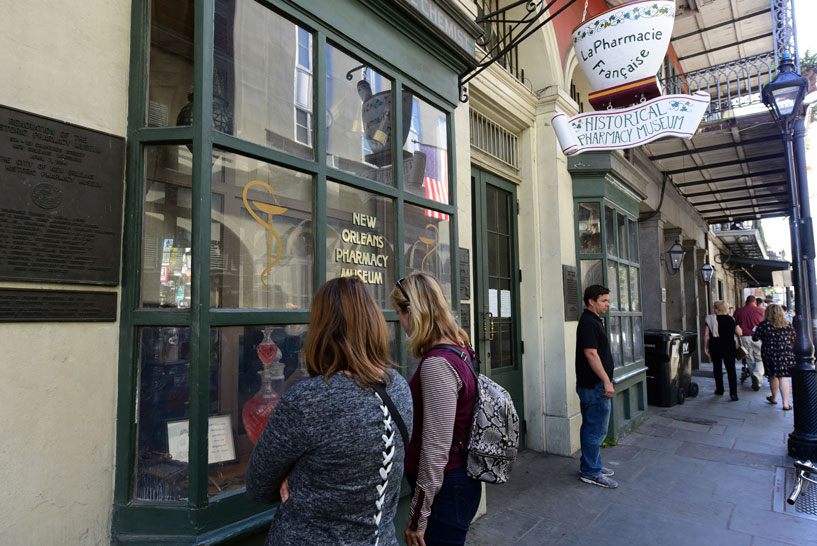 New Orleans Pharmacy Museum. Photo by Cheryl Gerber
Whether you're an art lover, history buff, or music fan, or just want to learn more about the city's rich culture, New Orleans is home to many fascinating museums, from the sprawling National World War II Museum to tiny jewels like the New Orleans Pharmacy Museum. Many of the best are within easy walking distance in the Quarter, or in the nearby Arts District and Treme.
945 Magazine St.
Designated by Congress as "America's National World War II Museum," this sprawling complex with five soaring pavilions tells the story of the globe-spanning war that changed the world through the experiences of the men and women who lived through it.
Four main halls transport visitors into the Pacific and European Theaters, the D-Day Invasion, and The Home Front. You can also submerge yourself in an immersive submarine experience, and see, hear, and feel the immensity of the war in the epic 4D movie Beyond All Boundaries, narrated by Tom Hanks.
900 Camp St.
Founded by a passionate group of Louisiana artists who wanted to expand the concept of art beyond work that hangs on the walls, the CAC is a hub of creative activity, from large-scale visual art exhibitions to music, dance, and theatre performances. A winding circular ramp, with a central atrium for hanging installations, connects several levels of gallery spaces.
925 Camp St.
Home to the world's largest and most comprehensive collection of Southern art, Ogden's permanent collection of more than 4,000 pieces from 15 states dates back to 1733 and ranges from traditional folk art to cutting-edge contemporary art and photography. It mounts new exhibits throughout the year and also hosts special events, including live music.
514 Chartres St.
How did New Orleanians cure what ailed them back in the 19th century? This unique museum holds some clues. Built in 1823 for Louis Dufilho, America's first licensed pharmacy, it showcases oft-questionable medical practices that proliferated in the mid-1800s, when opium was as common as aspirin and voodoo potions shared shelf space with patent medicines. Hundreds of artifacts include hand-blown apothecary bottles, old prosthetics devices and antique wheelchairs.
701 Chartres St.
Built under Spanish rule between 1795 and 1799, the Cabildo served as the site for the transfer ceremonies that finalized the 1803 Louisiana Purchase and houses three floors of historic paintings, documents and objects. The museum houses several permanent exhibits and a few temporary ones. Subjects include Creole history, Mardi Gras, Katrina, and more.
400 Esplanade Ave.
Housed in the Old U.S. Mint near the lively Frenchmen Street music corridor, the New Orleans Jazz Museum celebrates jazz in the city where it was born. Its collection of 25,000+ instruments, recordings, photographs, printed sheet music, and other musical ephemera is the largest in the world, but it's not just a shrine to the past. The NOJM also produces 15+ music festivals and over 365 live concerts throughout the year, where history continues to be made today.
1531 St. Philip St.
Second-line parades, Mardi Gras Indians, and countless world-class musicians emerged from the creative cauldron of Treme, one of the oldest African-American neighborhoods in the country. The museum houses an extensive collection of historic photographs and a rich trove of artifacts like second-line umbrellas and elaborately beaded Mardi Gras Indian costumes. BCM also hosts regular music and dance performances and serves as a Mardi Gras gathering spot for Indians, Baby Dolls, and Skull & Bones gangs, who wake the town up on Mardi Gras Day.
Planning a trip to New Orleans? Check availability for your travel dates and book your stay online. Also, make sure to take advantage of our low weekday rates and special offers. If you find lower rates on your Place d'Armes room at the time of booking, we will match the rate! And you can get exclusive deals and discounts at our New Orleans hotel by signing up for our email list.