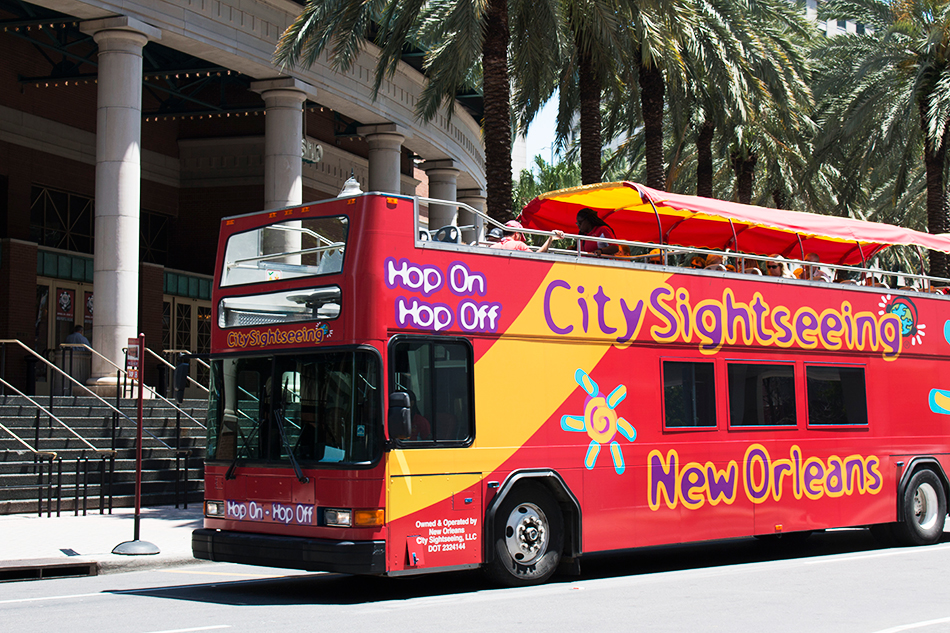 Maybe we're biased, but we don't think any other city does tours quite like New Orleans. This city's historical and cultural significance is well known around the world, adding to the many reasons why New Orleans is so special and unique.
Because of its endless amount of wonderment and mystery, some first-time visitors find themselves in awe. This is where tours come in. There are some types of tours you might be familiar with that are popular in New Orleans: history tours, home and garden tours, and even ghost tours. Take a look at some of our favorite tours in and around the French Quarter.
Did you know that, increasingly, New Orleans is a biking city? Multiple nights a week, there are mass rides and bar crawls for those who rather leisurely take their time as they ride. Luckily enough for you, New Orleans provides many opportunities to see this enchanting city, which seems to be stuck in some sort of time capsule, on your own set of two wheels.
While riding down a bike lane in this bike-friendly city, you can take in all of the historic landmarks, unique architecture, and, of course, maybe a dive bar or two. Go for a spin and explore quintessential New Orleans neighborhoods such as the Marigny and the Bywater.
If you prefer more greenery, then don't miss an opportunity to ride through the Garden District where you will find some of the city's most beautiful homes and gardens.
Personally, we recommend the two-hour French Quarter tour where you can hit a number of landmarks we've already mentioned including the Audubon Aquarium of the Americas, the Mississippi River and the Creole Queen, the French Market, Cafe du Monde, Jackson Square, and the St. Louis Cathedral.
Maybe you wouldn't think it if you hadn't been to the city before, but in New Orleans, cemeteries are large tourist attractions. To some, especially since the airing of American Horror Story's third, New Orleans-based season, Coven, this isn't much of a surprise. New Orleans has a deep and extensive occult history, grounded in the practices of voodoo.
Due to a high water table as well as low sea levels, New Orleans is famous for its aboveground tombs, which are often referred to as "cities of the dead." With New Orleans' unconventional burial practices, it is no wonder travelers would have a piqued interest to explore the city's relationship with death and the afterlife.
There are dozens of cemeteries throughout the city, but the majority of tours will take you through St. Louis Cemetery #1 where you will find the graves of famous New Orleans residents, such as Marie Laveau.
You may have seen that big, red double-decker bus coming down one of the streets in New Orleans' biggest neighborhoods: the French Quarter, the Garden District, or the Central Business District.
The City Sightseeing Tour is great for any tourist who is visiting New Orleans for the first time. It's like a catch-all for New Orleans history, architecture, and culture. You might be thinking that this tour would take a significant amount of time away from your other plans. You know, New Orleans was founded in 1718, and its battle between French and Spanish influence is enough to make anyone exhausted. It really is a lot to cover!
Surprisingly enough though, this tour only lasts two hours, which leaves you plenty of time to explore the other facets the city is so well known for, like music, cuisine, and nightlife.
New Orleans is the perfect city for walking. Not only is it flat and relatively easy to navigate, but you also have plenty of scenery along the way with the stunning French and Spanish architecture that differs drastically from the aesthetic of other modern cities.
Hear the brass band on the street corner or the click-clack of tapdancing feet, marvel at the stillness of the human statues, who have painted themselves entirely in gold or silver, smell the fresh scent of to-die-for cuisine, or listen to the buzz of the crowd. On your tour, you'll discover how sensory the city really can be.
French Quarter Walking Tours are among the most popular, taking you to some of the most iconic landmarks of the city. Whether you've been to New Orleans or not, nothing is more charming than making your way down cobblestone streets as you watch the red Canal Street streetcars pass by, slow and steady like the locals that walk the street. (No one is ever really in a rush here.)
If you're looking for something a little out of the ordinary, or you just loved that cemetery tour so much that you just had to learn more, don't hesitate to try out any number of the New Orleans ghost and haunted history tours. New Orleans has a long history of hauntings and has been repeatedly recognized as one of the most "Haunted Cities in America."
Whichever walking tour you happen to choose, you can uncover the extraordinary history of the city at your own leisure.
Place d'Armes invites you to take advantage of exclusive seasonal savings on our room rates! Book today and experience the true New Orleans spirit with this French Quarter Hotel.