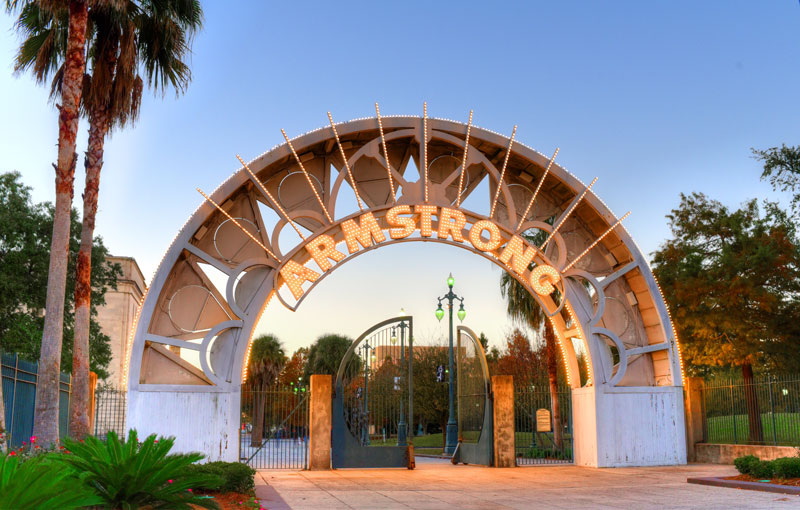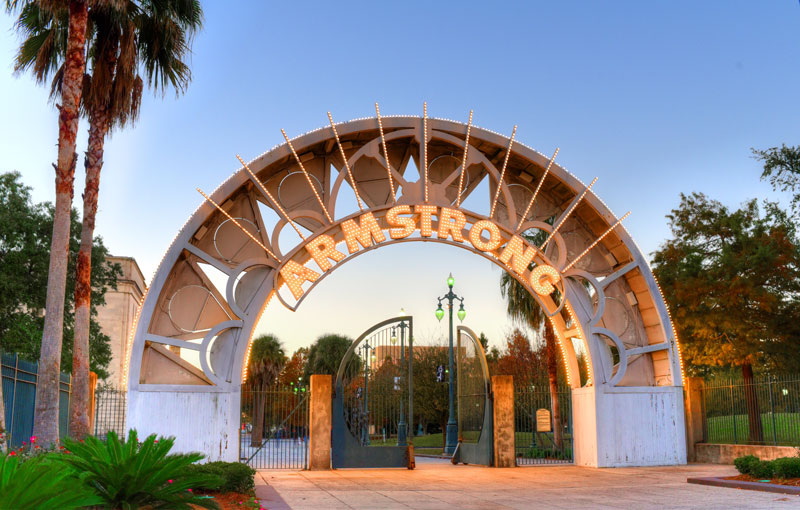 Armstrong Park. Photo by Cheryl Gerber
There's no shortage of attractions just steps away from the Place d'Armes, where history and culture collide in the storied streets of the French Quarter. But New Orleans also offers a colorful patchwork of other neighborhoods with their own unique traditions.
The Arts District
Site of three major museums, including the world-renowned National World War III Museum, the Arts District transformed many old commercial warehouses into trendy restaurants, galleries and bars, where art meets the culinary arts.
Julia Street becomes a swarming hub of see-and-be-scenesters from Camp St. to Tchoupitoulas the first Saturday of every month, when top-tier galleries like Arthur Roger (432 Julia St.) and Jonathan Ferrara (400A Julia St.) open their latest shows. Pop into Galliano (200 Julia St.) for a twist on classic Cajun cooking, or feast on the exotic Southeast Asia/West African/Caribbean fusions at Carmo (527 Julia St.).
Julia Street also serves as the ground zero for the Arts District's annual White Linen Night, held the first Saturday of every August.
Founded by Louisiana artists, the CAC is a hub of creative activity and performances. Several levels of gallery spaces are connected by a winding circular ramp, which overlooks a central atrium often hung with installations.
The Ogden boasts the world's largest permanent collection of Southern art, which ranges from traditional folk art to cutting-edge contemporary art and photography. It mounts new exhibits throughout the year and also hosts special events.
The Marigny
Frenchmen Street
The club-hopping strip of Frenchmen is the epicenter of the city's live music scene. Hit The Spotted Cat (623 Frenchmen St.), or reserve a table at Snug Harbor (626 Frenchmen St.) to hear cool contemporary jazz. d.b.a. (618 Frenchmen St.) hosts some of the hardest-working musicians in town, while the Blue Nile (532 Frenchmen St.) presents high-energy shows by local stars along with national touring acts.
St. Claude Triangle
Just the other side of Elysian Fields, where the Rampart.-St. Claude streetcar line ends, a trifecta of live music venues offers a hip alternative to the oft-overcrowded Frenchmen scene.
Anything and everything goes at the AllWays Lounge (2240 St. Claude Ave.), from swing dance to burlesque to drag shows to the quirky, punky, and all kinds of wonderful. Catch hot up-and-coming bands at the Hi-Ho Lounge (2239 St. Claude Ave.), a lively neighborhood bar. The dimly lit Siberia (2227 St. Claude Ave.) churns our live shows on a regular basis just down the block.
The Bywater
Julia Street's hipper cousin, the boho enclave of Bywater hosts art openings the second Saturday of the month at artist-run collectives like The Front (4100 St. Claude Ave.) and the Good Children Gallery (4137 St. Claude Ave.). It's also home to the Music Box Village (4557 N. Rampart St.), a delightful collection of artist-built musical houses that visitors can play like instruments.
Bacchanal Wine (600 Poland Ave.) attracts visitors from around the world to its funky outdoor courtyard. Guests sip world-class wines while listening to live acoustic music and feasting on the seasonal menu of small plates, steak, and cheese plates.
Get your day off to a good start at the Bywater Bakery (3624 Dauphine St.), which makes delicious house-baked breakfast treats and savory specialties, and hosts events including live music.
Treme
One of the country's oldest African-American neighborhoods, Treme is the living heart of second-line culture. Throughout the 19th century, enslaved Africans and free people of color gathered every Sunday in Congo Square to dance and drum in a corner of what is now called Louis Armstrong Park, which hosts free outdoor music festivals throughout the year.  
The Backstreet Cultural Museum (1531 St. Philip St.) houses a fabulous array of Mardi Gras Indian costumes and photographs that trace the neighborhood's musical history. Catch a jazz mass at St. Augustine Catholic Church (1210 Governor Nicholls St.), then hit Lil Dizzy's Cafe (1500 Esplanade Ave.) for lunch. Or try the savory gumbo z'herbes at Dooky Chase's (2301 Orleans Ave.), where the late, great Creole chef Leah Chase worked her magic.
The Garden District
Hop the St. Charles Streetcar at Canal and Carondelet to travel in style to the fashionable Garden District.
Get off at Washington Street to wander among the above-ground graves at Lafayette Cemetery No. 1 (1427 Washington Ave.). (Closed for renovations as of 2023.) Just across the street is Commander's Palace (1403 Washington Ave.), an elegant old-school Creole restaurant known for its decadent Jazz Brunch spread.
Planning a trip to New Orleans? Check availability for your travel dates and book your stay online. Also, make sure to take advantage of our low weekday rates and special offers. If you find lower rates on your Place d'Armes room at the time of booking, we will match the rate! And you can get exclusive deals and discounts at our New Orleans hotel by signing up for our email list.