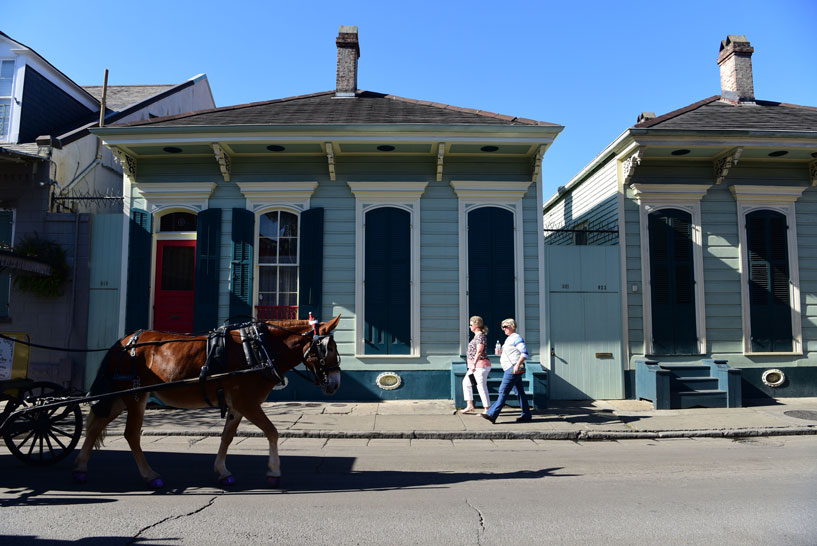 Place d'Armes is located on the quiet 600 block of St. Ann Street, in the center of the French Quarter of New Orleans. You can stroll just two blocks to the historic Jackson Square, or Cafe du Monde for some beignets. The excitement of Bourbon Street is only eight blocks away, too!
Because the French Quarter has so much to offer in terms of history, entertainment and world-class cuisine, choosing a perfect itinerary could be overwhelming. So here's our guide to what you can see, do, eat, and drink — all near the hotel. Also, do you need help choosing which room to book for your trip? We got you covered, too.
Choosing the perfect room at Place d'Armes
The beautifully restored 18th and 19th century buildings of the historic Place d'Armes surround the lush tropical courtyards, a sparkling saltwater swimming pool and fountains. There are five room types, with either a king or a queen bed, and we also have rooms with two queen beds. The one-bed rooms are ideal for solo travelers, couples, or besties who don't mind sharing a bed. The rooms with two queen beds are well suited for families, friend trips, girl trips, and any small groups that are OK with sharing a room.
If you treasure your privacy and are sensitive to noise, the windowless interior room offers a great value and all the peace and quiet you need. Our beautiful deluxe room has a little more space, and street or courtyard view (great for people-watching!). The balcony room features a balcony that faces St. Ann Street, and is perfect for people who want the full French Quarter experience. The courtyard room faces our lush tropical courtyard with fountains and a swimming pool, and the junior suite features the most space with its elegant sitting area.
Keep in mind that due to the historic nature of our property, we have some variation in our room sizes. 
Getting around
Place d'Armes places you within walking distance from numerous New Orleans attractions, restaurants, art galleries, museums, and more. You will be able to browse through famous New Orleans art galleries and antique shops, eat at some of the best restaurants in the country, and shop at the Riverwalk Mall and French Market.
What's on St. Ann Street, you ask? St. Ann has its own hidden history, full of characters, places and events that make it one of New Orleans' most storied streets. Take a trip back to antebellum New Orleans in the 1850 House (523 St. Ann), which is furnished with the exquisite art and decor found in the finest homes of prosperous local gentry. Situated inside the Pontalba buildings bordering Jackson Square, the elegant apartments were designed and financed by Baroness de Pontalba Micaela Almonester.
The voodoo priestess Marie Laveau's first house was an old adobe cottage between Rampart and Burgundy streets at an address then known as 152 Rue St. Some say Marie's spirit continues to inhabit the current house (1020 St. Ann), which was built on top of the old foundation when the cottage was torn down in 1903.
One of the most remarkable historic landmarks, The Presbytère (751 Chartres at St. Ann), was built in 1791 to match the neighboring Cabildo alongside St. Louis Cathedral, and was originally used as a residence for Capuchin monks. It later served as a courthouse and became part of the Louisiana State Museum in 1911. The Presbytère's two permanent exhibits celebrate the joyous spirit and resilience of New Orleans. Mardi Gras: It's Carnival Time in Louisiana invites visitors to climb aboard parade floats and view historic throws, while Living with Hurricanes: Katrina and Beyond documents the city's remarkable recovery from one of the worst disasters in U.S. history.
If walking around the French Quarter isn't quite your speed, other transportation options include mule-drawn carriages, pedicabs, streetcars, buses, cabs, Uber and Lyft, and even a ferry that goes to Algiers on the West Bank. One of the most versatile and easy options for visitors to see the city is the City Sightseeing New Orleans Hop-On, Hop-Off double-decker bus tour. The buses come to each stop every 30 minutes, allowing you to travel and sightsee throughout New Orleans at your own pace. It's a nice way to get from the French Quarter to the Garden District and Magazine Street shopping district, and your ticket also comes with three free walking tours.
Other New Orleans neighborhoods are within easy reach as well. From the music-haven strip of Frenchmen Street in the Marigny to the club-hopping St. Claude Avenue in the Bywater and the galleries and the museums of the Arts District, they all offer a colorful tapestry of unique culture and traditions, within walking distance or an easy ride away.
Where to eat
Whether you're looking for traditional American options or Creole- and Cajun-inspired recipes the city's dining scene provides endless options, particularly in the French Quarter. From artisanal pizza to the signature cafe au lait and decadent desserts, the French Quarter has it all.
For breakfast, try the Bananas Foster French toast or eggs Benedict po-boy at Stanley (it also offers a great view of Jackson Square), or the wildly popular eggs cochon and BBQ shrimp and grits at the Ruby Slipper. Vacherie serves authentic Cajun cuisine from the Hotel St. Marie located on Toulouse Street, and the charming, French-style patisserie Croissant D'Or tucked away on a quiet block of Ursuline Avenue is perfect for early risers.
Do you have a food bucket list? Cross off the gumbo, po-boys, charbroiled oysters, muffulettas, and other classic cuisine that came to define New Orleans while you enjoy a long, leisurely lunch near the hotel. How about more classics for dinner? Some of the best restaurants in the Quarter, both fancy and casual, offer up the Gulf coast fish, shrimp Creole, crawfish étouffée, and other deliciousness. And why not walk it off afterward, off the beaten path of the hand grenades and giant novelty cups, and explore a few local watering holes?
What to do
The Quarter is over 300 years old, and is considered one of the most beautiful historic places in the country. When you're staying at the Place d'Armes Hotel you're already immersed in history. Even strolling around informally, you'll discover storied landmarks just about anywhere you go. Whether you're a history buff or just want to explore lightly and have some fun within the walking distance of the hotel, you will not want to miss out on visiting some of the city's most famous historical landmarks, including the must-visit museums, located right in or near the Quarter.
Whether you're here on a girls weekend, a romantic getaway, a short stay, visiting with the whole family, or exploring on the budget, there's plenty to do, round the clock, in and near the French Quarter. Bustling nightlife, walking tours that will help you stay active during your visit, all kinds of sightseeing tours and entertainment — you can find it all within walking distance from the hotel.
Where to shop
For souvenirs (including the edible kind like pralines and Louisiana hot sauces) and well-priced local arts and crafts, try Decatur Street and the French Market, including the strip of the Shops at the Colonnade adjacent to the market. Want to pick some cool masks and beads for the kids? There are quite a few options that are fun for parents, too. There are three malls nearby, world-class menswear shops pepper the Quarter and just outside across Canal Street, and Chartres Street is packed with boutiques, just as Royal Street boasts some of the best antiques and vintage shopping in the country.
Did you forgot your toothbrush, or want to stock up on fresh fruit for hotel room snacking? There are some spots nearby where you can easily find these essentials near the hotel, too.
The best time of the year to visit
Even during the hot and humid months, the Crescent City's event calendar is pretty much always full, so when you should visit really depends on your interests and your tolerance for heat. There's something going on year-round, from food and drink fests to the fall and winter holidays, the Carnival, and the Saints football season. No matter when you decide to visit, we'll be happy to have you! Book your stay with us today, and see why no other city compares to the magic that is New Orleans.